1000W 2000W 3000W LED wachsen leichte Innenpflanzen
| | |
| --- | --- |
| Einheitspreis: | 99 USD |
| Minimum der Bestellmenge: | 1 Piece/Pieces |

| | |
| --- | --- |
| Verpakung: | Kartons. |
| Produktivität: | 2000pcs/month |
| Marke: | Philizon |
| Transport: | Ocean,Land,Air |
| Ort Von Zukunft: | China |
| Versorgungsmaterial-Fähigkeit: | 2000pcs/month |
| Zertifikate : | ISO9000 |
| HS-Code: | 9405429000 |
| Hafen: | Shekou,Yantian,Chiwan |
Produktbeschreibung
1000W 2000W 3000W LED Grow Light Indoor Plants
COB L ED Grow Light Benefits:
More efficient: 100% of the power input for our LED grow lights is used for your plant chlorophyll production.
Better for environment: It saves 50% to 90% in energy consumption compared to incandescent bulbs or fluorescent tubes.
Less Heat: Low heated LED bulbs will protect your plants well.
Less trouble: No ballast to burn out likes other plant lights
No maintenance costs and 50,000 hours lifetime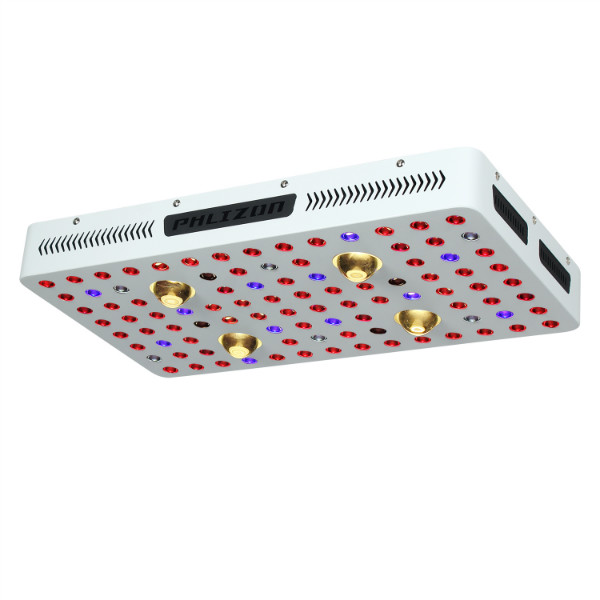 Spezifikation:
Item Name: Full Spectrum COB Led Grow Light
Spannung: AC100-240V 50 ~ 60Hz
Material: Alunimium(Best quality)
Led Chips: COB HIGH POWER
3 Modes( Full Spectrum,Grow, Bloom)
Light Spectrum: Red:630nm~660nm; Blue:430nm~460nm; IR:710~730nm; White:6500K; Warm:3500K
Actual Power Consumption: 500W consume 100W±5%
Energy saving design, high brightness, much better than the same product in the marketplace
Working Environment : -20~40degrees,45%~95%RH
Working Temperature: -40~85 degree
Lifespan: >50000hours
Warranty: 2Year All Inclusive
Plug Type: AU, JP, EU , UK , US-Type
Für: Hydroponics Gemüse und Blüte / Pflanzen / Früchte / Gemüse usw.
Buy with confidence,it is the best choice for your plant
Application for COB LED Grow Light
Ideal for all phases of plant growth, and works well with water solution culture and soil culture.
Can be used in house garden, pot culture, garden, sowing, breeding, farm, flower exhibition, bonsai, garden, green house , sowing ,breeding , farm,
greenhouse cultivation, water soluble breeding, greenhouse cultivation, pipeline cultivation and so on.
MERKMALE
Widely used in the greenhouse , landscape lighting, home garden, or small pot plant
Brand new and high quality
Made of high-grade iron material, solid and durable for long-lasting use
Low power and energy saving, it features environmental protection function
Super bright and long-lasting , easy to install


Paket beinhaltet
1 x LED Grow Light
1 x Power Cable
2 x Iron Hooks


Using tips of LED Grow Light Spectrum
1. Suitable for hydroponics, horticulture, greenhouse
2. Suitable for plants growing, flowering and fruiting
3. Lighting Time setup: Vegetative Stage: 12-14 hours on; Flowering Stage: 9-12 hours on. Fruiting Stage: 7- 8 hours on
4. Suggest distance above plants: 1.5-2.5m
The Plug you can choose
The Phlizon indoor reflector series features a highly energy-efficient 250 watt LED grow light. The full-spectrum light wave technology uses LEDs to mimic the sun's natural light spectrum while saving energy on cooling costs due to the low heat output of LEDs vs. traditional indoor grow lights. This light is for indoor use with vegetables and flowers and features a reflector for maximum light exposure.
Philizon focuses on LED Grow Lights and LED Grow Aquarium Light Manufacturer China, Produce The Best Yields, Run More Efficiently, Use Half The Electricity Of Double Ended HP.
More details on our COB LED Grow Light , please contact us directly and warml y we lcome to visit ou r company and we will pick you up.

led lights for growing,grow lights,grow lights led,led grow light,grow lights for plants,best led grow lights,t5 grow lights,plant grow lights,hydroponic supplies,full spectrum led grow lights,grow lights for indoor plants,led grow,plant lights,grow light bulbs,led plant lights,grow lamps,led plant light,indoor grow lights,grow led,indoor plant lights,led lights for growing plants,grow lamp,best grow lights,led lights for plants,led plant grow lights,hps lights,fluorescent grow lights,600w led grow light,cfl grow lights,led grow light bulbs,plant lamp,cheap led grow lights,led growing lights,cheap grow lights,led grow lights for sale,grow light kits,grow equipment,led growing,grow lights for sale,hid grow lights,grow bulbs,kind led grow light,grow led lights,indoor led grow lights,led indoor grow lights,led grow bulbs,led grow light kits,top led grow lights,growing with led lights,led grow lamp

Shenzhen Phlizon Technology Co.,Ltd.
SHENZHEN PHLIZON TECHNOLOGIE Co., Ltd spezialisiert auf LED-Wachstumsleuchten für wachsende Anbau- und kommerzielle Anwendungen. Wir verfügen über ein 10-jähriges Erleben von F & E-Team, benutzerdefiniertes Design- und OEM / ODM-Funktionen. Die Produkte verfügen über ETL / FCC / CE / ROHS-Sicherheit zertifiziert und streng Testing.Unser BOSS ist ein leitender Ingenieur, der sich mehr als 10 Jahre auf LED-Industrie konzentriert, Qualität zuerst.
Phlizon LED wächst Lichter sind für Ergänzung entwickelt , um natürliches Licht, oder mit anderen Arten von wachsen Lichter gepaart, für Innen- und Außen wachsenden Zweck. Wir würden uns sehr freuen , um Hilfe für Ihre individuelle Anlage wachsenden Bedürfnisse und Projekte.
Phlizon Lager Lichter wachsen und wachsen Zelte in den USA, Polen, Spanien, Russland, EU, Großbritannien, Australien und China.Most Länder können die Waren innerhalb von 3 bis 7 Werktagen erhalten nach der Bestellung.
Wir haben eine starke OEM / ODM - Fähigkeiten, mit erfahrenen Teams, vollständigem Post-Sales - Support und einem etablierten Qualitätskontrolle.
Wir versprechen , qualitativ hochwertige Produkte zu wettbewerbsfähigen Preisen, schnelle Lieferung zu sorgen und ansprechende Dienstleistungen für unsere Kunden.
Name der Firma: Shenzhen Phlizon Technology Co.,Ltd.
Vertreter: Xu Hong
Produkt / Dienstleistung: LED wachsen Licht. , LED-Aquarium-Licht. , LED-Anlage wachsen Licht , LED-Aquarienbeleuchtung. , High Macht wachsen Licht , LED-Aquarium wächst Licht
Kapital: 200,000
Jahr Errichtet: 2012
Absatzmenge des Jahres (in Mio. US $): Below US$1 Million
Exportanteil: 81% - 90%
Jährliche Kaufvolumen (Millionen US $): US$1 Million - US$2.5 Million
Zahl der Fertigungslinien: 4
Zahl der Mannschaft der R&D: 11 -20 People
Zahl der Mannschaft der QC: 5 -10 People
OEM Dienstleistungen verbieten: yes
Größe der Fabrik (Sq.meters):: 1,000-3,000 square meters
Ort der Fabrik: BIdg 2-4 ,TongFuYu Industrial Park, AiQun Road ,Shiyan Town, Bao'an District,Shenzhen,Guangdong, China.
Ansprechpartner: Mr. Phlizon
Telefonnummer: 86-755-23722726